Expert & Professional Services
Obligation Free Quote
Get an obligation free quote from local tradies to meet your business or home needs.
Competitive Pricing
Our network of local tradies will provide you with a competitive price for the industry.
Top Rated Tradies
Work with professional tradies that follow our quality code, with great reviews and customer service.
Guaranteed Workmanship
You're in good hands for all repairs, installs, and maintenance with tradies that guarantee their workmanship.
Gold Coast Experts In LED Lighting Services
It's lighting … evolved! Did you know ultra-modern LED lights are a great way to illuminate the look, feel, value and functionality of your home or business? From outdoor to accent lighting, task to strip lighting, backlighting to cabinet lighting and much more, there's so much an LED light professional can do to illuminate the spaces that mean the most to you. And here at Tradie Near Me, we can instantly connect you with fully-licensed specialists to take care of all of your needs in LED lighting installation Gold Coast locals just like you really can rely on.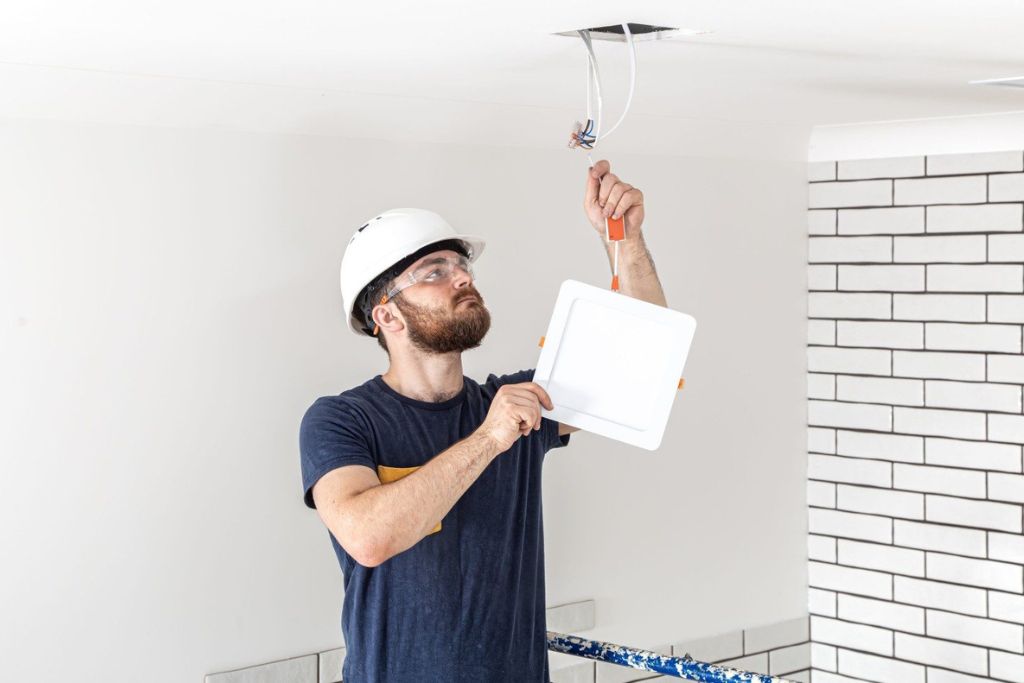 Where To Get LED Lights Near Me?
Simply by filling in your details, we've made finding a tradie who specialises in the LED light installation you require easier than ever. Your search for 'LED lights near me' ends today, because from one corner of beautiful and thriving Gold Coast to the next, our fully-vetted network of professionals in LED light installation, repairs, maintenance, upgrades, retrofits, design, consultation and more are standing by.
LED stands for Light Emitting Diode, which unlike traditional incandescent and other legacy lighting technologies uses semiconductors rather than filaments to produce light with efficiency, versatility, safety, durability and colour that until now you've only been able to dream of.
By using Tradie Near Me's unique and sophisticated network of proven, insured, licensed and friendly LED lighting professionals, we'll help fix you up with the custom solutions that suit your precise requirements. Which LED lights are you looking for?:
Outdoor lighting: Light up the exterior of your home or business with our outdoor lighting solutions. From the walkways and driveways to the landscaping, paths, decks, patios and features you love the most.
Decorative lighting: From the functional to the fantastic, decorative LED light installations add a unique touch to homes and businesses for the most modern, warm and welcoming ambience. Choose from rope to pendant lighting, chandeliers to wall sconces, and string lighting to backlighting.
Task lighting: No matter the bright and focused illumination your specific tasks or activities require, LED task lighting is a highly effective and versatile solution that the people and businesses of Gold Coast are embracing. Fully adjustable, bright but easy on the eyes and highly durable and efficient, your LED installation will last for tens of thousands of hours.
General, security & specialty lighting: From recessed lighting to safety and motion-activated security lighting, signage to theatrical lighting, aquarium lighting to vehicular lighting and everything in between, Tradie Near Me knows all the best LED lighting installation professionals Gold Coast wide and beyond.
Need A Local, Affordable, Trusted LED Light Specialist?
The steady and impressive rise in popularity and prevalence of LED light installations Gold Coast wide deliver significant benefits for local home and business owners across our stunning region. From improved lighting quality, longevity and flexibility to incredible gains in energy efficiency, customisation and cost-savings, there are so many reasons to give LED a closer look:
Energy efficiency: Did you know LED technology uses up to 80% less energy than traditional and comparable legacy light installations?
Longevity & durability: Across Gold Coast and beyond, word is spreading that LEDs last tenths of thousands of hours – saving you money on replacement whilst featuring impressive resistance to shock, vibration and environmental conditions even in outdoor and industrial settings.
Environmentally friendly: No hazardous materials are contained in the construction of LED lights, on top of a dramatic reduction in harmful greenhouse gas emissions.
Flexibility & convenience: Choose from all the colours and colour temperatures of the rainbow and all the light production qualities across the spectrum of wavelengths, intensities and more to suit an incredible variety of applications. Easily-dimmable LEDs turn on instantly with no warm-up time, produce no excessive heat for safer-than-ever installations, and are optimally customisable for next-level ease of use.
Find A LED Light Expert Near Me Today!
What do you want the most trusted LED lights installation experts Gold Coast wide to do for your home or business? Whether it's start-to-finish fully-compliant installations to upgrades, retrofits, maintenance and repairs, design & consultation and even energy audits and efficiency analysis and so much more, Tradie Near Me can connect you with a licensed and insured specialist near you.
Connecting with a friendly, available and competitively-priced LED lighting professional close to your Gold Coast location couldn't be easier. Just check out Tradie Near Me, enter your details, and we'll connect you with a local expert who can create and maintain an ultra-modern LED lighting system that meets all of your needs and more. Get started today.
NEED A LOCAL TRADIE?
Get an obligation free quote for help with home repairs, maintenance and installations today.
Gold Coast Tradies
Carpenter Gold Coast
Pest Control Gold Coast
LED Lighting Services
Outdoor LED Lighting
Decorative LED Lighting
Security Lighting
Wall Sconces
String Lighting & Backlighting