Expert & Professional Services
Obligation Free Quote
Get an obligation free quote from local tradies to meet your business or home needs.
Competitive Pricing
Our network of local tradies will provide you with a competitive price for the industry.
Top Rated Tradies
Work with professional tradies that follow our quality code, with great reviews and customer service.
Guaranteed Workmanship
You're in good hands for all repairs, installs, and maintenance with tradies that guarantee their workmanship.
Rangehood Installation Service – Expert Tradies Near You
At Tradie Near Me, we pride ourselves on offering top-quality rangehood installation services to transform your kitchen. Our team of skilled and experienced electricians and tradies is equipped to handle all types of rangehoods, ensuring a seamless, professional fit for your space.
We prioritise your safety and satisfaction, adhering to strict guidelines and using high-quality tools and equipment. Trust our expertise to deliver exceptional results, improving your kitchen's functionality, style, and ventilation. Don't wait – contact us today for a free quote and get ready to experience the difference of expert rangehood installation from Tradie Near Me.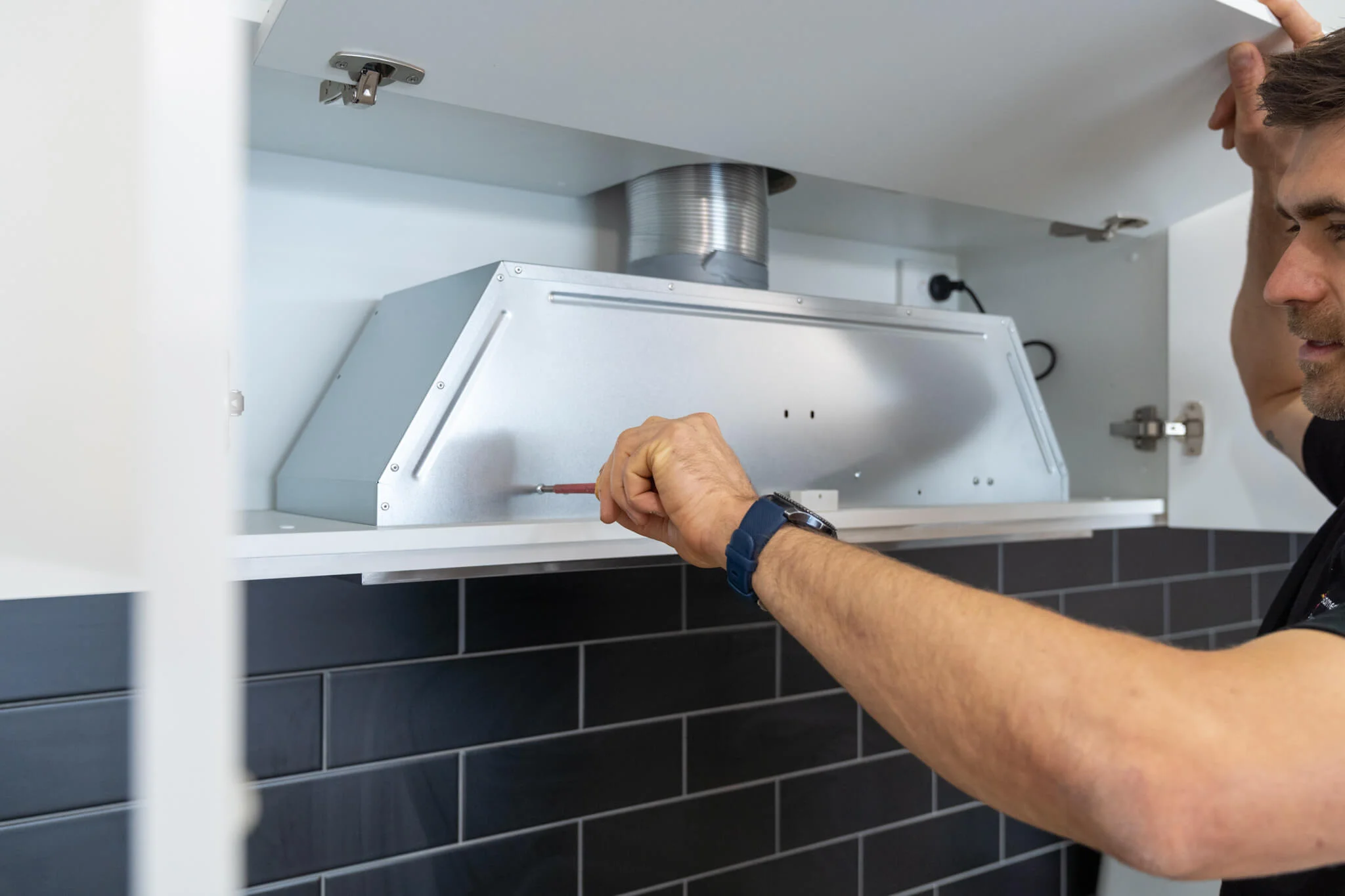 Rangehood Installation FAQs
Can you install a rangehood yourself?
While it's possible to install a rangehood yourself, we recommend hiring a professional tradie to ensure a safe and secure installation. A professional tradie is knowledgeable about local building codes, electrical wiring, and proper ventilation techniques. Attempting a DIY installation can result in potential hazards or an inefficient rangehood. Trust our expert tradies at Tradie Near Me to deliver a safe and seamless installation for your peace of mind.
Do range hoods have to be vented outside?
Ideally, range hoods should be vented outside to effectively remove heat, smoke, and cooking odors from your kitchen. However, some circumstances may prevent external venting. In such cases, recirculating or ductless range hoods can be used. These hoods use charcoal filters to clean the air and release it back into the kitchen. While not as effective as external venting, they still improve air quality and remove odors.
Does rangehood need to be as wide as cooktop?
A rangehood should be as wide, or wider than the cooktop to ensure effective coverage and optimal ventilation. By matching or exceeding the cooktop's width, the rangehood can efficiently capture cooking vapors, steam, and smoke, creating a cleaner, more comfortable kitchen environment. It's essential to follow the manufacturer's recommendations and consider your specific needs when choosing the right size rangehood for your space.
What is the minimum distance between rangehood and cooktop?
The minimum distance between the rangehood and cooktop varies based on the type of cooktop and the manufacturer's guidelines. For electric cooktops, the recommended minimum distance is typically around 600mm, while for gas cooktops, it's generally between 650mm and 750mm. Always consult the manufacturer's instructions for your specific appliances to ensure a safe and effective installation.
What is the Australian standard for rangehood installation?
The Australian standard for rangehood installation is AS/NZS 5601.1:2013, which outlines the requirements for gas installations, including rangehoods above gas cooktops. This standard mandates the minimum height requirements between cooktops and rangehoods, specifies the need for fire-resistant materials in certain circumstances, and details other safety and performance aspects. When you choose Tradie Near Me, you can trust our skilled tradies to adhere to these standards, ensuring a safe and compliant installation.
Do you need a power point for a rangehood?
Yes, most rangehoods require a dedicated power point to operate. It's essential to have a licensed electrician install the power point, following local safety regulations and wiring guidelines. At Tradie Near Me, our experienced tradies can coordinate with electricians, making sure the rangehood installation is seamless, efficient, and up to code.
NEED A LOCAL TRADIE?
Get an obligation free quote for help with home repairs, maintenance and installations today.