Expert & Professional Services
Obligation Free Quote
Get an obligation free quote from local tradies to meet your business or home needs.
Competitive Pricing
Our network of local tradies will provide you with a competitive price for the industry.
Top Rated Tradies
Work with professional tradies that follow our quality code, with great reviews and customer service.
Guaranteed Workmanship
You're in good hands for all repairs, installs, and maintenance with tradies that guarantee their workmanship.
Find A Brisbane Arborist Near Me!
We all love and respect our trees, just as much as we understand that sometimes they require a bit of professional attention. But when you do need a certified tree inspection done, or you need a tree or stump properly and safely removed, ground, pruned, maintained, healed, repaired, planted or protected, how on earth can you tell the great arborists from the merely good ones?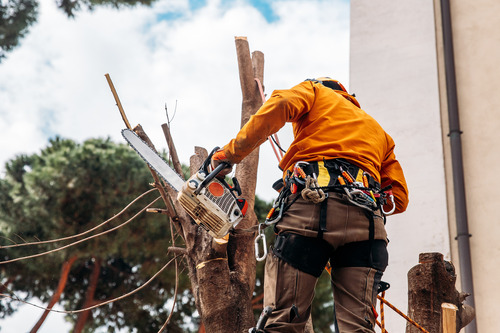 So with our beautiful region of the world comprised of almost 50% in terms of tree cover, what should you do when your search for a 'Brisbane arborist near me' turns up reams of results that all look basically the same? Well, just as there is a scientific method for instantly spotting the difference between Sycamore and Hickory bark, or broadleaf from scale leaves, it's actually also possible to play 'Where's Wally' with a great Brisbane arborist near you.
3 Things A Great Brisbane Arborist Must Have
1. A passion for trees
All the right certification, experience and cost-efficiency are obviously a must – but your Brisbane arborist also needs to exude a true passion for trees and the local region. A great arborist will care for trees in the way that doctors care for patients, and express a passion for the environment, conservation and the role healthy, safe trees play in all of our lives every day.
2. Exceptional tree knowledge
Becoming a great Brisbane arborist isn't something you're born with. It takes commitment, sacrifice, effort, patience and practice – and then a willingness to dive into the tiniest details about trees from the tip of the longest root to the furthest extremity of the leaves. Coupled with the best equipment, safety gear and presentation, the arborist of undeniable quality is usually obviously at the peak of their game.
3. The full suite of skills
And we're not just talking about grinding stumps, pruning palms, writing exceptional reports or leaping to action in the middle of the night in a dangerous storm. When it comes to the full suite of professional skills, that means marrying that passion and competence with the most exceptional of more general skills including communication, listening, conflict resolution and based presentation, manners and a commitment to customer satisfaction.
Need help finding a great Brisbane arborist?
Because the importance of healthy, safe and well-managed trees to an individual and community is generally underestimated, so too is the need for truly competent and respectful arborists. Unfortunately, an exceptional arborist is often confused with someone who is merely good with trees or willing to scale those dangerous heights – but the victim might not only be your trees but your property, family, business or peace of mind. Believe it or not, the cost of a good arborist on the beautiful Brisbane can be comparable to the cost of a good cleaner, so there's really no excuse to cut corners when it comes to humankind's best and greenest friends.
If you need help getting in touch with a truly great 'Brisbane arborist near me', or other local tradies nearby, don't hesitate to get in touch.
NEED A LOCAL TRADIE?
Get an obligation free quote for help with home repairs, maintenance and installations today.
Brisbane Tradies
Carpenter Brisbane
Pest Control Brisbane
Arborist Services
Tree removal
Stump grinding
Tree pruning
Arborist reports